Confession time.
In February I didn't declare millions of dollars I gained upon returning from Dan Miller's No More Mondays Cruise. Lock me up and throw away the key…
Actually, the title is true, but it wasn't illegal. When we returned to the Port of Miami, I had to fill out a customs declaration form based on the value of the items I was bringing back into the US. I put about $180 down to cover the gifts I purchased in Jamaica and aboard the ship.
But I didn't, I couldn't and I wouldn't declare what I really had of value. It was hidden out of site…in my cranial cavity!
The past year has been a period of personal growth and discovery. Instead of staying where I was (stuck), I bit the bullet and started spending money to achieve my dreams of self-employment. It began with a visit to Dan Miller's (of 48Days.com) Sanctuary in Franklin, TN (sounds cult-ish when I put it that way…it's not, but never mind) for 48 Days Certification training. Just spending time with Dan, his family and the others in attendance convinced me to do more.
So I joined what is now known as the Free Agent Academy. FAA is run by Dan's son Kevin Miller and uber coach Chuck Bowen. FAA is all about helping entrepreneurs/solopreneurs and wannabe's grow their businesses in order to live life and work on their own terms. It is the single best self-employment resource on the planet (I'm biased…more on that at the end).
That led to attending FAA events in June and September, and again in January of this year. Each time I made new friends and further refined my business ideas. But I left the January event empty. Something wasn't right and I couldn't figure out what it was.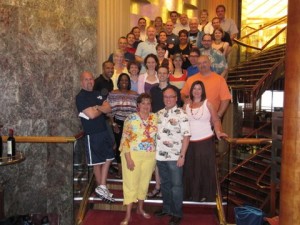 Then came the cruise. Oh, it wasn't an ordinary vacation. It was work with fun thrown in. Dan Miller hosted the event, along with a stellar lineup of coaches and speakers including Chuck Bowen (he's everywhere!), Kent Julian and Justin Lukasavige. The other attendees were brilliant as well.
It was during a presentation by Chuck that I had an epiphany. In an instant, I was able to connect all that I had been learning over the last year, and actually the entirety of my life. In one moment, everything was crystal clear. I am a strategist, gifted by God, and my purpose is to help others achieve their goals and dreams by making their paths clear and productive. A late night discussion with Chuck on the last night of the cruise nailed it down.
I didn't get a single million dollar idea on the No More Mondays Cruise. I got a bunch of them. I just didn't tell customs!

My head was spinning during the 12 hour drive home from Miami the next day. Since then, I've continued to refine my business approach and started getting new clients and leads. I've even become a part of the leadership team at Free Agent Academy as the new Professor for Strategy and Planning (our Roadmap group).
So if I disappear in the weeks following this post, you'll know the men in black came and deleted me (and this post probably…you better print it for evidence!).
If I don't disappear, you'll probably find me on the next No More Mondays Cruise in February 2011. Perhaps I'll even be invited to present…
Dan? ;-)

Can't wait for next February to advance on your business?
Join me in Colorado for the next Free Agent Academy event!

Watch the preview from Kevin: