My birthday is on the 8th of January, so I'll be posting my 40 Before 40 updates on the 8th of each month. Here's the October update:
AHHHHH! I only have three more months until I'm 40! The good news is that I'm putting more energy into accomplishing my remaining goals than I am on turning 40.
I'm having to shift a few things around now, and likely will do even more as the year draws to a close. Here's the update:
For the original list and more info about each item, go to WoosleyCoaching.com/40
Newly Completed
25) Ride a Century (100 mile single bike event)
September 21st – Victory! I rode 103 miles in a single day to complete my first Century ride! Full details at my JDRF Nashville Ride Report post.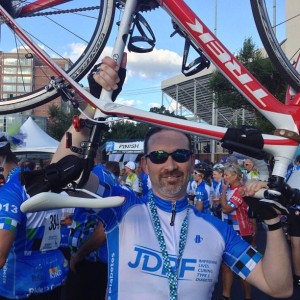 Thanks to all who supported and encouraged me throughout the event! And donations are still being accepted until 9/20 by clicking here.
Completed
3) Teach Ian to ride a bike

September 8th – Finally! Today after several marathons of Minecraft, I got the boy to go outside and attempt once again to ride his bike. I pumped up his very flat tires, gave him my old helmet (he has a large cranium), and we set off for the grass field across from the house. After a successful first ride and spectacular crash–he jumped up and declared himself okay–we continued a few practice runs before getting on the street. It wasn't pretty and it wasn't perfect, but he did manage to complete a loop around our cul-de-sac. He'll need a lot of practice before we can cruise the neighborhood together, but at least he's pedaling now!

2) Father/Son Event

July 5th – Our planned father-son trip to Missouri to visit my parents and grandparents fell through, so we had to find something else to do over the holiday weekend. Since the trip is re-scheduled for a few weeks from now, we decided keep it simple and go see Man of Steel and pig out on sushi (and we did, including some with Pop Rocks on it). It was a great guys-only day with my little buddy!

14) Publish first book

June 13th – That was the day I submitted the final version to the printer. What an amazing and strange moment…almost exactly three years since I first outlined the book, it was finished. Get your copy of Conquering the Entrepreneur's Kryptonite: Simple Strategic Planning for You and Your Business today at Amazon.com and check out the book website, ConquerYourKryptonite.com.

36) Wildcard #1: Attempt a Half Marathon

May 19th – I really wanted to do a full blog post just about the half marathon (I probably will soon), but I let the book take priority. But lets focus on the goal, and the key word is "attempt" so I completed the goal at the start of the race. Then I conquered the Marine Corps Historic Half Marathon in just over two hours and forty minutes. I may not be fast, but I beat my 2:45:00 bonus goal!

Jessica Brown, Jody Berkey, Steve Berkey and me after the race

18) Finish office

May 12th – The office is done! In a frenzied weekend, I finished all of the painting, hanging blinds and curtains, and moved in the basic furniture (including some of the goodies I got at IKEA!). There are still some finishing touches to make in terms of decorating and organizing, but the office is functional and I love working in my own space. It was perfect for finishing up the book.

13) Visit Congress or AL Legislature

April 24th – It took a few months of rescheduling but I finally got to Montgomery! It was quite an experience seeing how government works (or doesn't, depending on the day and the topic). Such an honor to represent my city and school system, as well as all of the public school systems in Alabama. Met with several legislators and was even recognized from the floor of the House!

26) Complete first 5K race

March 9th – The Gator Hustle 5K in 33:36 minutes.

32) Complete a fast

March 30th – No soft drinks for 40 days before Easter.
Making Meaningful Progress
1) Daddy/Daughter Getaway

No change. Sadly with summer coming to a close, this item may have to be adapted. I travel a lot but do my best to spend time with the kids. This is about having specific time with my daughter (now a teenager…how did that happen?). Looking at a Saturday adventure of some kind.

4) Get gloves and play catch with Anna and Ian

No change. This summer has been hot and busy. Autumn is a much more friendly time for baseball, right?

7) Start recycling

No change. Good intentions gone bad. Need to clean up the overflowing bins in the garage and re-kickstart this one.

9) Visit a museum or attend a symphony/play/opera

No change. Two words: Alice Cooper. I'm going to call this a cultural event and let it count. Plus it makes my wife happy and will be a ton of fun! Just have to wait until November.

11) Read the entire Bible

UPDATE: I'm now in the midst of Ezekiel, on page 910 of the 1339 pages in my Bible. That's 69% completed. I'm still a bit behind, but looking forward some smaller books and getting into the New Testament.

12) 12 Dates with My Wife

UPDATE: Enjoyed a date the night before our 17th Anniversary. Only five more to go…but I'd love to have 50 more before the year ends!

15) Produce 10 products (ebooks, audio programs, etc.)

UPDATE: Writing a book was number one and still an amazing feat. The Kindle version was number two. (Both are available on Amazon.com). Now there is the third…the audiobook! It is available on Amazon, iTunes, and Audible! And I have to say, it's really cool to see those pages with my name and book on them!

16) Conduct group coaching course

NEW: Planning to initiate a course in November to help people get ready for 2014…details coming soon!

17) Conduct first STRATOP

NEW: In November I'm off to Colorado for my first STRATOP! I'll be facilitating for a dear friend to help her launch a new business and service that has the potential to help a lot of people. I'm very excited for her and honored to be a part of her process!

21) Consistently wake up between 5-6 am

UPDATE: Six days in the past month before 6 am. I need a new strategy. I just don't like mornings.

22) Teach a community class (other than FPU)

NEW: I've had initial discussions with two organizations about conducting a Conquer Your Kryptonite seminar designed around my book. I'm hopeful that I'll conduct my first seminar in November!

23) Join/Start Local Mastermind/Networking Group

NEW: A friend and I have had rough conversations about starting a local mastermind group. It's too early to say if it will happen, but at least this one is starting to take shape.

24) Make 100 blog posts

UPDATE: This post makes 30 since the beginning of the year, and a big improvement. My Project Rules series is helping and I have a few other ideas that will help me produce more consistent posts. I may not hit 100, but it'll be a lot better than the trend from earlier in the year.

27) Drive a race car

No change. Still waiting for new dates to be scheduled at the local track.

28) Complete second Spartan race

No change, but it's only 11 days from today. Am I ready? Maybe. I'm in better shape than I was going in last year and I know better what to expect. Do I feel ready? Not really! The Spartan Race is October 19th so I'll check it off next update.

29) Attend a NASCAR event

NEW: Plans are to attend the NASCAR Nationwide Series event this coming Friday in Charlotte, NC. The Cup race would be nice, but it'll still count!

31) BMI 25 or less

UPDATE: Started the year at about 27, and I've been lower than my current 25.7. Only five pounds to get there and it's frustrating because I'm not going to do some silly diet or crazy fast to get there. Overall, I'm winning because I feel better, but I still want to hit the BMI target.

33) Record 2M steps in 2013

UPDATE: Last month I was 21 days behind, and now I'm only 11 days behind. That's significant progress after the post-half marathon slow down. If I can average just over 6000 steps per day, I'll make it. And I know I can do that if I keep track and remember to get them in every day. A few races will help if scheduling works out! Through yesterday I've completed 1,488,204 steps.

34) Complete the Manitou Springs Incline

NEW: After climbing 10 stories in my hotel earlier this week, I'm not sure this will be a lot of fun. But since I'll be in Colorado in November anyway, I might as well accept the challenge.

35) Ride over 1200 miles

UPDATE: Added another 168.61 miles in the past month, including 103 on the JDRF Ride. My total for the year is now 834.56. If I average just over 30 miles per week, I'll hit my goal. That shouldn't be too difficult, but finding another organized ride to fit my schedule would help.

38) Wildcard #3: Make My Military Shadowbox

No change. I did find a box with a lot of my old stuff in it!

39) Wildcard #4: Headline a Conference

UPDATE: Unfortunately the conference fell through and won't be happening, so I'll have to put 39 back into a Wildcard status.
No Update to Report (Yet!)
5) Host a party
6) Have a getaway weekend with Heather
8) Have a family service project
10) Family Vacation
19) Establish LLC
20) Start a podcast
30) Take a firearms safety class
37) Wildcard #2: Send Letter to My Address in England
39) Wildcard #4
40) Wildcard #5