About James
I grew up an Air Force brat, bouncing from base to base across the Midwest. My high school and college years were spent in Omaha, Nebraska, where I myself joined the Air Force as a Computer Systems Officer.
After five years in uniform, I made the difficult decision to separate from the service and join a consulting company. Although the travel can be tedious, I really enjoyed consulting because the jobs varied so much from year to year. In nearly a decade of consulting, I visited more than a dozen states and served my clients as a trainer, software implementation strategist, requirements manager, project manager and more!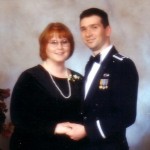 With Heather, my lovely wife.
But there were two events that focused my attention more than anything else
over the last few years…

First, in January of 2003, I finally gave my life over to Christ.  It was a long and studious journey, but one that changed everything.  Getting to know Jesus opened my mind and heart for another radical change in the way I lived…
Second, in the spring of 2005, my father introduced me to this crazy guy on the radio named Dave Ramsey.  Shortly thereafter, I was teaching Financial Peace University and realized just how much I enjoyed helping people meet their financial goals. Dave introduced me to Dan Miller, who has since become a friend.
Dave and Dan opened my mind to new possibilities in the workplace. Imagine the audacity of pursuing work you love or the concept of entrepreneurship? The deeply buried dream of owning my work and running my own business was reawakened…and through the coaching, support and friendship of Kevin Miller (Dan's son) and Chuck Bowen (my mentor), Woosley Coaching was born.
Now I'm applying my strategic strengths to help clients chart a course for their own future (and having a blast doing it!).
FAMILY
When it comes to family, I'm an old fashioned kind of guy. In 1996, I married my high school sweetheart (and first girlfriend!) Heather. We have two children, Anna (2000) and Ian (2004) and live in Satsuma, Alabama, near Heather's family. Most of my family lives in the Springfield, Missouri area.

MISSION STATEMENT
My mission is to serve Christ and speak the truth in love through my roles in life:
• as an honoring, adoring and caring husband,
• as an active and engaged father,
• as a competent, creative and inspiring coach,
• as an authentic and insightful friend.
Woosley Coaching exists to empower, equip and encourage life and business transformation in the areas of planning and strategy, allowing my clients to advance boldly in the direction of their dreams and goals.