On December 31st, 1999, I launched a website called PerfectParanoia.com. It quickly became one of the most popular NASCAR websites on the internet and had a good run for several years before I shut it down. So why is it gone? Because I didn't have a clue how to monetize it and become self-employed!
Oh how I wish Free Agent Academy had existed ten years ago!
But it does exist today, and I'm not only a member but a professor. I'm teaching people how to build simple but strategic plans to accomplish their free agent dreams.
I'm still a big racing fan and tomorrow I get to mix the chocolate (NASCAR) with the peanut butter (free agency)!
Tomorrow on the Free Agent Underground show, I'll be interviewing NASCAR driver Kenny Wallace with my friend/FAA founder Kevin Miller.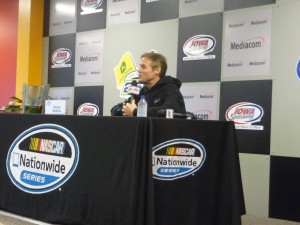 What do NASCAR and free agency have to do with each other? Find out on the show!
Join us live at 1 PM ET/12 PM CT or listen to the replay (which I'll link to soon after the interview). Learn more by clicking here!
Who is Kenny Wallace? Kenny is a veteran driver of all three of NASCAR's top series. A nine time winner in the Nationwide Series, Kenny recently make his 500th start in the series (2nd all time). Kenny also races his own dirt car at tracks across the country and is a host on Speed TV. Always entertaining on TV, Kenny is a race car driver who is serious behind the wheel. He's also a dedicated husband and father.
A special thanks for my friend Dale Johnson for making the interview happen. Dale runs KennyWallace.com, and we became friends back in my PP.com days. Note: Photo is from Kenny's Facebook Fan Page.