This month I've decided to say thanks to the people who have fed my hunger for knowledge and personal development this year. The order will be random…and likely incomplete!
I'm having a bit of Dave Ramsey overload this weekend. On Friday, I hosted and attended his EntreLeadership simulcast event from Orlando, FL. Today, I spent two hours presenting an overview of his material and why it's important to get control of your money.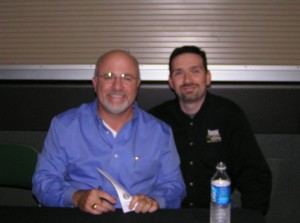 I owe Dave Ramsey a huge debt of gratitude. Better than the financial kind, eh?
But what Dave gave me is more than just solid financial guidance. True, my finances are in much better shape because of his well-packaged common sense advice. That's not the most important thing he gave me.
I've led his Financial Peace University program 13 times in the last four years. I love doing it. FPU helped me tap into my passion for teaching and helping people. FPU gave me an audience to go along with material I believe in.
I'm energized when I teach. I love seeing people get it…those light bulb moments! Beyond that, I love seeing people change their lives. I've had people become debt free, pay off their mortgages, and even get their first $1000 in the bank. Don't scoff at that…Baby Step 1 can be harder than the others!
FPU also introduced me to many other people that have had an impact on my life (and will be featured in more Thank You posts soon).
Our lives are full of pivotal moments. Most of the time we don't recognize their significance. I know now that when my father mentioned a crazy radio guy to me in 2005, everything changed. Everything!
Thanks, Dave!
If you haven't checked him out yet, you owe it to yourself to do so. Maybe everything will change for you too!