Taking my daughter away for a Daddy-Daughter weekend was a bit scary before we left. By the time it was over, we were planning for next year!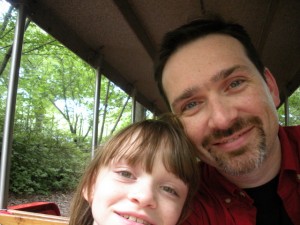 It's hard to believe that we were away from home for just under 40 hours. In that time, we covered more than 730 miles driving from home to Atlanta, all over the city and back home again. We headed out on Friday morning and decided to hit Zoo Atlanta first. Then we were off to the Northpoint Mall to visit the American Girl store and have dinner at The Cheesecake Factory, before checking into the hotel and going for a swim.
Saturday we were up early to see the Georgia Aquarium (got there early and got through before the crowds), the World of Coke (tried 60+ Coke products from around the world, including Beverly from Italy…nasty!), a quick walk through Olympic Park and then a difficult drive to find the Fernbank Museum (enjoyed the dino bones and an IMAX movie). Exhausted, we piled into the van and headed home, but stopped for an hour in Montgomery for dinner at Ruby Tuesday.
It was a truly incredible trip, and I learned so much in just spending those precious hours with my precious daughter. Here's just a bit of what I observed and experienced:
At nine, Anna is in the midst of a transformation.
She's no longer a simple child, and she's not yet a young adult. At times she's clinging to her desire to be a little girl, wanting to play on the playground or be silly. Then in an instant she's acting like a teenager or twenty-something, making conversation or eating off the adult menu.
I'm a "we'll see" kind of guy.
Anna spoke nearly these exact words to me as I told her she had only twenty minutes left in the pool. Anna is a born negotiator, and immediately petitioned for thirty minutes. Without thinking, I said "we'll see" and I guess I say it way too often!
She is braver and stronger than I thought
Anna recently attended a Girl Scout horse camp, spending five days away from home. She was generally miserable, except when she was riding. The notes we got from the first few days broke our hearts as she begged to come home (of course, the mail was slow enough that we didn't get them until day four). But in Atlanta, alone with me, she wanted to go down the the hotel lobby by herself and didn't freak out if we were briefly separated at one of the sites.
She's everything I could want in a daughter
Anna is a genuinely sweet young girl, when a heart for others. She is intelligent and insightful. She has a wonderful spirit and I experienced glimpses of the kind of adult she is likely to become.
Sure, I'm a biased father. But that doesn't mean it's not true.
Fatherhood is always a daunting responsibility. But there are amazing rewards along the way as well.
I'm looking forward to continuing these trips with Anna, and when he's older, with my son Ian. Being an everyday dad is great. These trips will simply enhance the everyday!