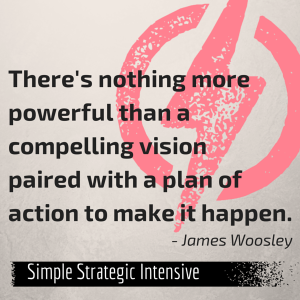 Far too many entrepreneurs and business owners jump into business without a clear plan.
Others have a plan to get started, but never thought about what happens next.
Some are successful for a while, but without a solid foundation, what they build begins to crumble.
Soon they're propping it up instead of growing it into what it needs to be. And some are letting it crash to the ground.
It's time to end that.
Do you want to create a business that grows?
That fits the lifestyle you want?
That has a clear picture of the future so that everyone–your customers, your team, yourself–understands it and works to make it happen?
I believe it's time to Conquer Your Kryptonite!

It's time to build the transformation you need. That transformation is a bridge to a better future. It may be greater confidence or more profit. It may be a better product. It almost certainly is a better lifestyle for yourself and your team.
That's why I'm excited about the Simple Strategic Intensive — a four-week mastermind program designed to give you the clarity and focus your business needs to grow in 2015 and beyond.
I hope you'll join me on the journey.
It's time to go.